Motivated by the will to offer decentralised training tools in tune with current technological development, Transurb has launched into the development of a cutting-edge application for tablets. This application called TrainLab aims to get train drivers and conductors familiarised with new rolling stocks. Norges Statsbaner (NSB), the Norwegian State Railways, will be the first operator to benefit from this brand-new tool, which can be adapted to numerous types of trains.
Through this application drivers will be immersed into a 3D reproduction of NSB's rolling stock and get access to videos and theoretical content. Two exploration modes are available: a free one and a guided one. While the free exploration mode enables a discovery of the different parts of the train without wizard, the guided exploration mode leads users through the different areas of interest of the train and provides theoretical information in the form of texts, videos, animations, pictures and audio explanations.
Contrary to serious games that are currently available on the market, TrainLab will enable clients to edit the tool by themselves and to make it evolve over time. In the future, NSB will thus be able to modify and/or add specific training topics such as failure recovery instructions by themselves.
TrainLab stands out for its portability and user-friendliness. After being downloaded on a tablet, it can be used offline anywhere 24/7, which enables train drivers and conductors to continue their training in a flexible way outside premises. TrainLab is compatible with Android as well as iOS and can be converted into a web version. This application is also characterized by the very intuitive learning experience it offers.
TrainLab constitutes a major breakthrough in the field of railway simulation and certainly represents the future of training. Check the pictures of our innovative tool below: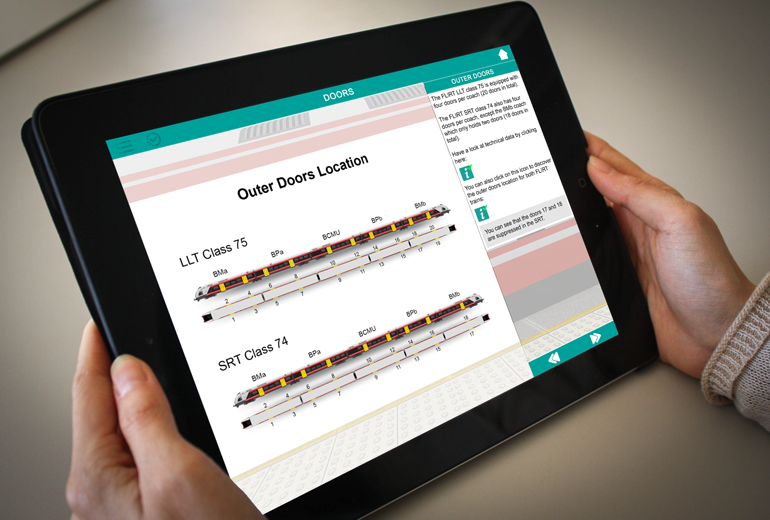 Keywords
profile, job, jobs, Sales Officer, Talent scout