After being awarded the contract in December 2017, Transurb has delivered its Compact Simulator to Metro de Medellín in record time considering the scope of the project. As stated in an interview aired at the end of January, the Colombian public operator started training its recruits at the beginning of the year thanks to the modern simulation solution.
MDM mobilizes around 1,150,000 passengers on a regular working day across two different lines and operates two rolling stocks. The company is accredited with several international certifications and has set a benchmark of excellence for urban transportation in Latin America.
Efficient Training for Metro Drivers
Diana Zapata, the Simulation Project Manager belonging to the Research, Development and Innovation Department of MDM, points out:
The simulators intend to strengthen and optimize the training process with minimal impact on operational activities. The Metro simulator allows instructors to recreate the different events, scenarios, incidents and degraded mode conditions without the need to technically wear down the real rolling stock.
Faithful 3D Reproduction and Made-to-Order Hardware
MDM drivers can enjoy a realistic 3D modelling of the Medellín city and its iconic landmarks. Furthermore, the sophisticated hardware is configured with interchangeable desks simulating both metro trains (MAN and CAF) operated on the network. The physical buttons have been integrated according to the real driving desks layout for ergonomic purposes.
A Growing Relationship with MDM
Proud of this prestigious partnership and of our first metro driving simulator in Latin America, we want to congratulate MDM on moving forward with innovative pedagogical tools such as Transurb's advanced training solutions and thank them for the collaborative process that characterised the project. We would also like to thank Kris De Sutter from Incomelec S.A.S., our agent and partner on this project, for his help and guidance through both the tender process and project implementation.
For more information regarding Compact Simulators and our expertise in Metro Driving Simulators, feel free to contact us at simulator@transurb.com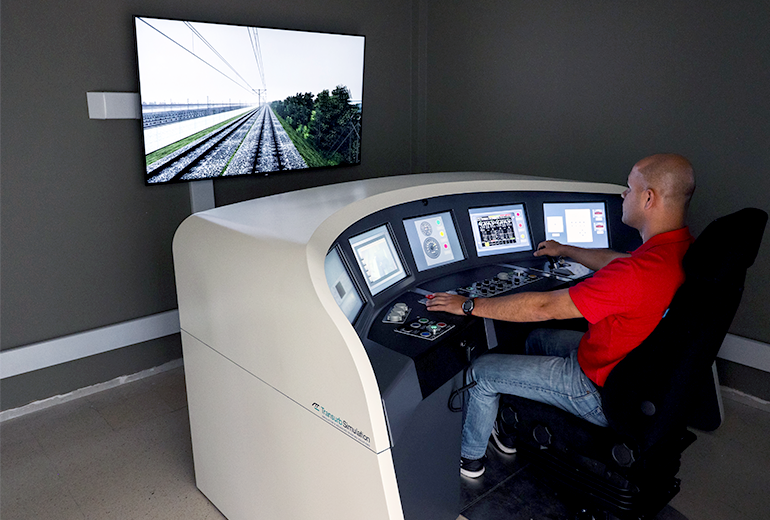 Keywords
ERTMS, Trainings