In order to fully grasp the benefits of simulation learning, you must first understand what simulation training is. A simulation tool immerses trainees in a realistic learning environment and invites them to interact with it. This virtual interactive environment replicates instructional scenarios that will likely arise in the users' day-to-day professional lives and requires them to make decisions regarding these real-life situations.
Simulation-based training can be achieved with tools ranging from hand-held devices, such as eLearning or cloud-based applications, to more heavy and imposing equipment, like an actual one-to-one replica or mock-up with which a simulation software has been integrated. Such tools all have a common goal: to go beyond traditional learning methods and put knowledge and skills into practice. So what key benefits can you expect from those tools?
1. Improve learning retention
I see and I forget. I hear and I remember. I do and I understand.

Confucius

The American educator Edgar Dale famously investigated various theories relating to learning methods, and focused on how learners absorb and retain knowledge most effectively.
He came up with this well-known and influential "cone of learning"[1], which illustrates that the most effective methodology is to learn by doing. The more senses are involved in learning, the more actively the learner gets involved, the better the learning retention becomes. Learners retain more information when they do, rather than when they read, hear, or watch; we just learn better with experience. In other words, simulation-based training is more effective than traditional learning methods.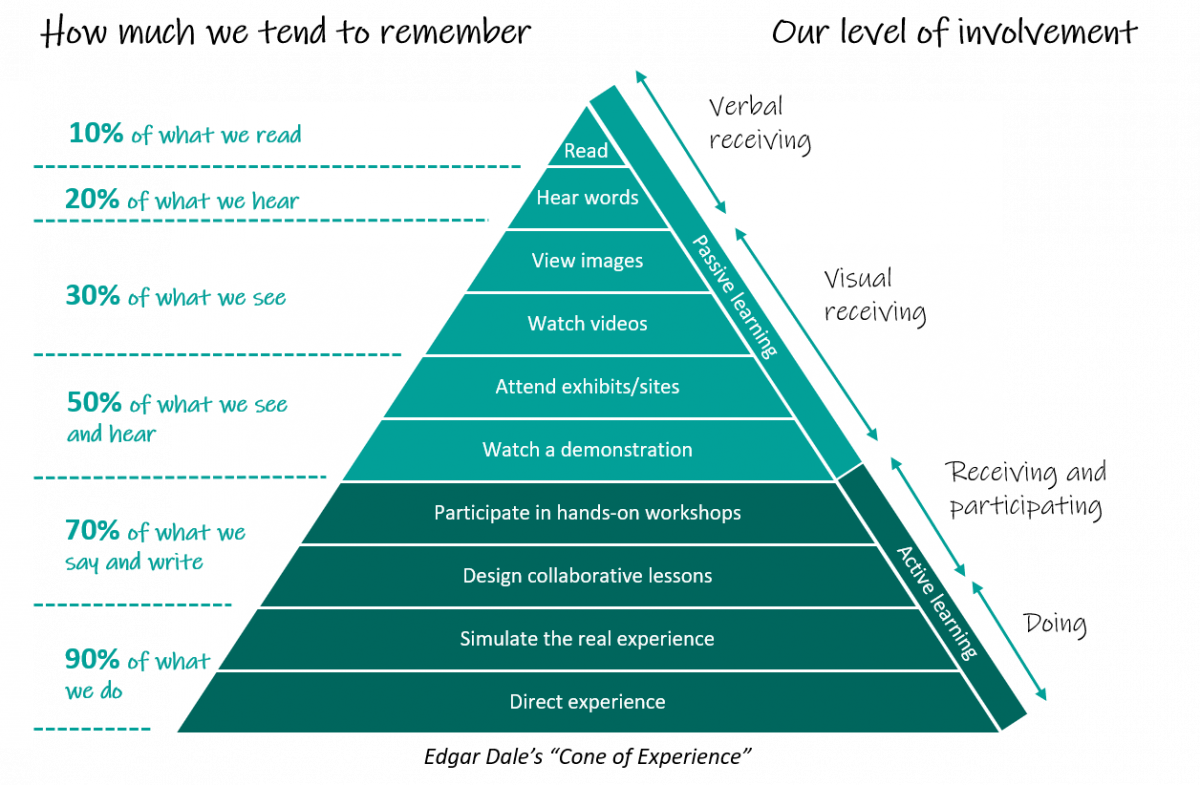 But why should you train your learners on a simulator, and not on-site with real equipment? What benefits does simulation-based training have that real-life learning situations do not?
2. Learn in safe conditions

Simulators provide essential practical experience of hazardous situations in a safe and managed environment. They enable the reproduction of any kind of scenario, including the ones involving high-risk conditions or rare incidents only happening rarely, in a safe and educational format without security issues.
To train on simulators also reduces future risks of accidents; trainees are led to learn, practice and repeat procedures as often as necessary to finetune their decision making abilities and be drilled into safe and reliable work habits, which ensures their own safety as well as the one of their co-workers.
3. Increase productivity & save costs

The safe environment in which the training takes place also has an interest for the preservation of your equipment. Besides the risks of injuries that are avoided with a simulator, the damage of equipment and property is also averted with a simulator. Plus, wear and tear that would inevitably result from training is fended off.
Another element that allows simulation-based training to save costs is the fact that there is no need to immobilise your material during training sessions. This makes it possible to keep the existing machinery and train paths for operational use while training an optimal number of drivers thanks to the 24/7 availability of simulation tools, regardless of weather and ground conditions.
4. Get insights & measure performances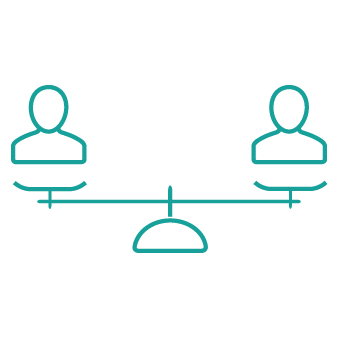 As opposed to on-site courses, a simulation software makes it easy to monitor and compare individual performances by keeping track of progress, results and completion rates. As a result, areas for improvement can be optimally identified among a large number of learners.
A simulator can be used not only for training purposes but also for certification. An examinator can easily configure the scoring of an examination exercise and create automatic and objective reports that include information such as the trainee's actions, scoring with different levels of severity, incidents encountered, comparison with other trainees or instructors and so forth.
5. Get immediate feedback

A simulation environment provides consistent and contextual feedback to trainees. They immediately face the results of their actions and can thereby directly self-correct. That way, incorrect actions are not absorbed on a longer term and, oppositely, correct behaviours are optimally retained.
6. Customise scenarios

Thanks to a dedicated exercise creation and supervision software accompanying the simulator, exercises subjected to learners are professionally structured with conditions that are difficult to replicate with real material on a working site.
Instructors can easily determine exercise properties and scenarize modules with challenges, such as failures, erratic behaviours from surrounding people, particular weather conditions, and so on. All theoretical and procedural learning such as working conditions, operation procedures and troubleshooting can be acquired through simulation.
7. Boost corporate, social & ecological responsibility

Aside from networking costs, no fuel nor a huge amount of electricity is required for simulation-based training. Training on simulators is therefore environmental friendly, and it ensures the safety of trainees, instructors and equipment, and improves transparency in performance assessment.
Besides developing safer working skills and transparency, simulators can also teach ecological behaviours. A driving simulator for instance can calculate fuel consumption with parameters such as braking, accelerating and gear changes, and thereby develop ecofriendly driving styles and habits.
---
[1] Edgar Dale. Audio-Visual Methods in Teaching (3rd Ed.). Holt, Reinhart, and Winston (1989).